This elegant apartment, located in the central district of City Life in Milan, represents the right combination of classic and contemporary style. It is a renovation in which some pre-existing elements have been kept, such as the floor and some restored furnishings, which are well suited to the new character that the architects wanted to give to the rooms. The result is an elegant atmosphere characterized by desaturated colors combined with elements in Canaletto wood essence.
Living
The living room is characterized by a large double-sided equipped piece of furniture that defines 2 spaces: the first convivial, the second more private with a study corner. The bookcase in the living area is made up of light metal blades illuminated by integrated LEDs, while the study area hosts a desk and storage elements in Canaletto wood and metal. It also integrates a swivel system for the TV panel.
A low cabinet in Canaletto wood runs across the entire external wall under the windows, which masks the radiators and alternates open areas, with 45 ° workmanship, with storage elements. Sockets on the top and lighting under the skirting board are integrated into the furniture.
The living area is filtered to the entrance area thanks to a cabinet / planter in Canaletto wood that ideally extends the adjacent wall partition.
The kitchen
The kitchen is characterized by a built-in wardrobe, lacquered in the same color as the wall paint, and by contrasting lacquered bases. The wardrobe, which runs along the entire wall, creating continuity with the dining area, is embellished with some open elements in Canaletto wood that enliven the façade. The bases are completed with a low thickness stone effect top combined with the flooring.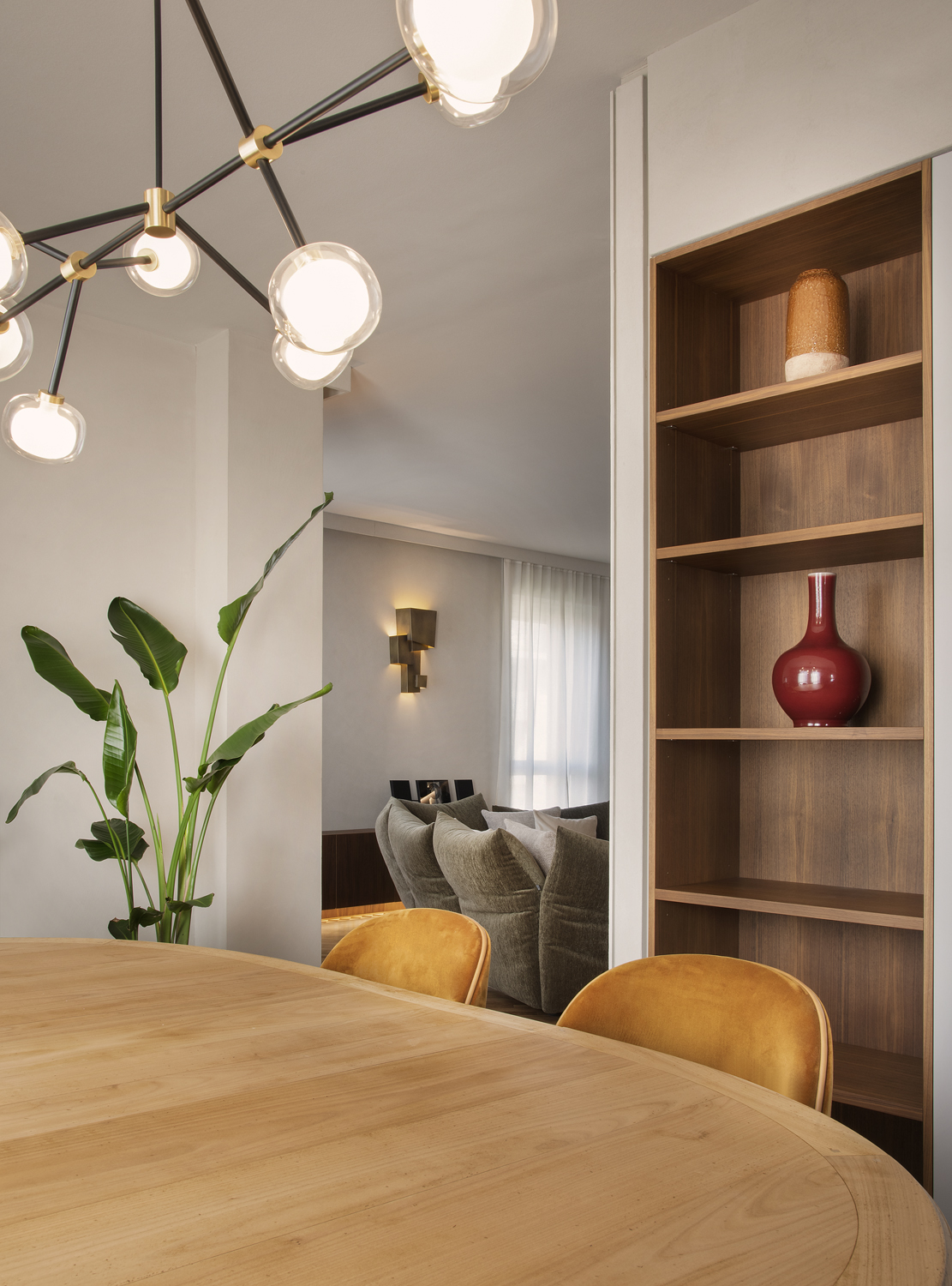 In the children's room the color block technique is used in the shape of a "house", and by a suspended desk that runs along the entire external wall.